Welcome to Year 2!
We have two Year 2 classes:
Class 7: Mrs Jackie Haden and Miss Laura Evans are the teachers
Class 8: Mr Stephen Williams is the teacher
Both classes are supported by a dedicated team of teaching assistants.
Check this page regularly for updates and don't forget to follow us on twitter for the latest news: @Y2HVCS
*************************************************************************************
Friday 25th September 2020
Thursday 10th September 2020, 1st week back!
Please read the welcome letter from the Y2 team, highlighting lots of useful information.
Welsh Week
What a fantastic week we have had in Year 2. We have been finding out about St. David and have produced wonderful posters to celebrate being Welsh. Each year group has been focusing on a traditional Welsh story, with Year 2 learning about the story of Gelert.
We had a great end to the week with our wonderful Eisteddfod, where we listened to other classes singing Welsh songs and poetry. We were proud to perform our own song 'Aderyn Melyn' to the rest of the infants. What a busy week!!
Have a lovely weekend.
The Year 2 Team
Dydd Santes Dwynwen Hapus!
We have listened to the story of St. Dwynwen today and the children have made cards to give out. The children were all excited to hear that we have our own Saint of Love in Wales and enjoyed hearing the story. Keep a watch out for some surprise cards tomorrow!
As part of our topic, we have been writing ice poems, following on from our adjective and simile work last week. We have been very impressed with the children's imagination and language use. We have some budding poets in our classes this year.
We have come to the end of our Maths topic of Statistics. We have focused on tally charts, pictograms and block graphs. A lot of the children have enjoyed this topic and have been making their own tally charts during choosing time.
Next week we are moving onto multiplication and division.
Have a great weekend!
This Week in Year 2
13-1-2020
This week we have had a great week in school. We have completed a story map of the 'Lost and Found' book by Oliver Jeffers. In maths we have been leaning about tally charts and pictograms and we made our own charts by asking our friends what were their favourite animals. We then practised our skills in our Power Maths books - the children said they found the work a little tricky but did really well!
We had a lovely time doing observational drawings of ice balloons, which we used to think of adjectives and similes. The children loved feeling the ice in their hands and watching it melt. They thought of some wonderful words to describe the ice too!
Power Maths
There will be a Power Maths presentation and demonstration lesson for all parents interested in how this is being used in class. This will be on Wednesday 12th February at 9:30am in the infant hall. Please talk to a member of staff for more information.
Have a great weekend!
The Year 2 Team
Blwyddyn Newydd Dda
We have had a great start to the New Year in Year 2. The children have been busy thinking about 'Class resolutions' and we have talked to the children about our topic this term, which is 'Our Planet'.
We are focusing on the colder regions of Earth during the first half-term. The children have completed some fantastic work, based upon what they already know about cold areas of the world, and have also asked some great questions. This questioning allows them to come up with their own lines of enquiry and gives each child a different focus. This is a great way to learn!
This week we have given every child a unique log-in code to use the 'School Jam' App. This is linked to our Power Maths scheme and provides games and activities to share at home. There are also some great help videos that explain some of the methods that we use to teach new concepts. We hope this will be a valuable resource and something that will give you an idea of what your child has been learning in school.
Have a lovely weekend.
The Year 2 Team
Christmas Concert Week
We have been busy rehearsing for our Christmas Concert this week and the children have finally managed to have a practise on the stage. They have done so well putting the show together and can't wait to sing and dance for you next week. Remember Year 2 parents are invited to the show on Thursday 12th December, which starts at 9:30am. We look forward to welcoming you to our Christmas performance.
We would like to thank you for all your help and support with providing the wonderful costumes. The children always look amazing when they perform together dressed up.
Have a wonderful weekend.
The Year 2 Team
The Boy who Cried Wolf and Christmas Concerts
Week Beginning 25/11
We have been busy practising our concert songs over the last two weeks and are ready to go into full rehearsals. The children have all been given their parts and are eager to get started. What a great week to begin our practices by visiting Theatr Clwyd to see a real performance and observing how actors stay in character during a show. The children can't wait!
Concert performances will take place the week of the 9th December with Year 2 parents invited to watch the show on Thursday 12th. Tickets cost £2 and are limited to two per family. We look forward to welcoming you to our production of 'Lights, Camel, Action!'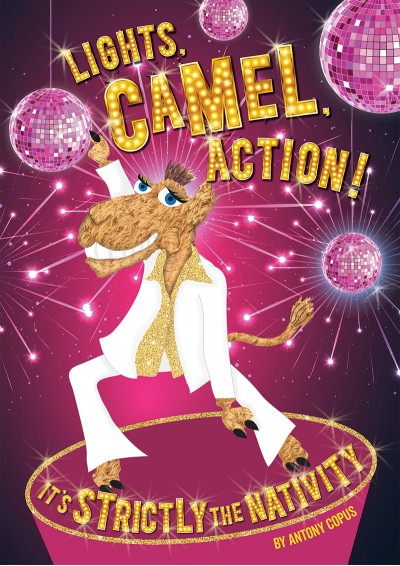 The homework tasks this half-term seem to be a success, with some children posting their tasks on Twitter and bringing their creations into school to share with the class. It has been lovely to see their work and the enjoyment they have had working with their families.
Friday 20th September
Welcome to Year 2
The children have had a wonderful 2 weeks in their new classes and have all settled really well. They are getting used to the new Floppy's Phonics and Power Maths schemes and have already produced some wonderful pieces of work.
The guided reading sessions are working well and the children are getting used to working more independently. It has been a great start to the year and the children are enjoying the challenges that we have set them each week.
We will send out copies of the Floppy's Phonics 'Tricky Words' next week, as homework, for the children to practise at home. More details to follow.
Have a lovely weekend and enjoy the lovely weather!
The Year 2 Team
How can I help with Maths?